Golf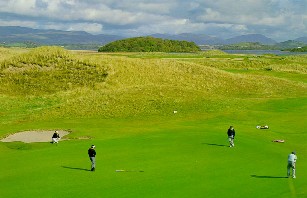 Time for Tee...
When it comes to great golf courses, Ireland has it wrapped up. Currently constituting our single biggest holiday attraction, thousands of golfing enthusiasts flock to Irish shores each year, with clubs at the ready and a whole heap of expectations . And with over 240 million dollars invested in Irish courses over the last decade, they are rarely disappointed...
Boasting 386 excellent golf courses, including thirty percent of the world's 154 links courses, both the novice and professional golfer are catered for on Irish soil. The unprecedented growth in the profile of Irish golf, to the much coveted status of 'mecca', invariably stems from the wealth of major tournaments that have been played here. Five major tournaments in total are now held in Ireland. Look out for the Murphy's Irish Open, held annually in June and the Women's Open which takes place in September. Venue details for these events and more are available from the Golfing Union of Ireland.
Ireland will also enjoy the honour of hosting the prestigious Ryder Cup in 2005. Already new facilities are being built to the most exacting international standards in preparation for what promises to be a mammoth event and coup for Irish tourism. The courses on which these great international competitions are played are open to all, and are just as accessible to the visiting golfer. Consequently a round not only offers the visitor a sporting challenge, but also a fantastic opportunity to take in the charm of their surroundings.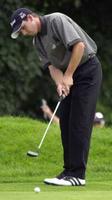 The Curragh, Tralee and Mullingar are ranked amongst some of our finest inland golf courses in Ireland, whilst the scenic coasts of Clare, Kerry, Dublin and Down have an excellent selection of seaside links. Ballybunion simply cannot go without mention and is consistently rated by top professionals as being among one of the best ten golf courses in the world. Killarney is another course with great character, not to mention breathtaking scenery. Major tournaments have been played on this course for decades, against the famous backdrop of the Killarney Lakes and majestic McGillicuddy Reeks. Others similarly ranked and well worth a visit include the Portmarnock in Dublin, the Royal County Down and Royal Portrush.
With a game and challenge for everyone the country really is littered with courses, and as one of Ireland's finest tourist destinations, Galway is no exception.
Not short on choice, look out for: Galway Golf Club, Barna Golf and Country Club, Galway Bay Golf and Country Club, Athenry Golf Club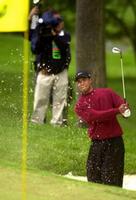 Club Hire/Tee-off Times:
Green fees in Ireland usually start from around 20 Euros (USD20) on a per-day basis during weekdays, however, you can expect to pay at least three times as much as this on some of the more exclusive courses. Visitors are generally advised to book in advance as most clubs will give members priority on tee-off times. And always bear in mind that weekends, bank holidays and fine weather (when we occasionally get it!!) will make it that bit more difficult to book your tee-off times.
Availability of club hire and dress code are also worth checking out before you arrive too.
Related Links
Golf Courses